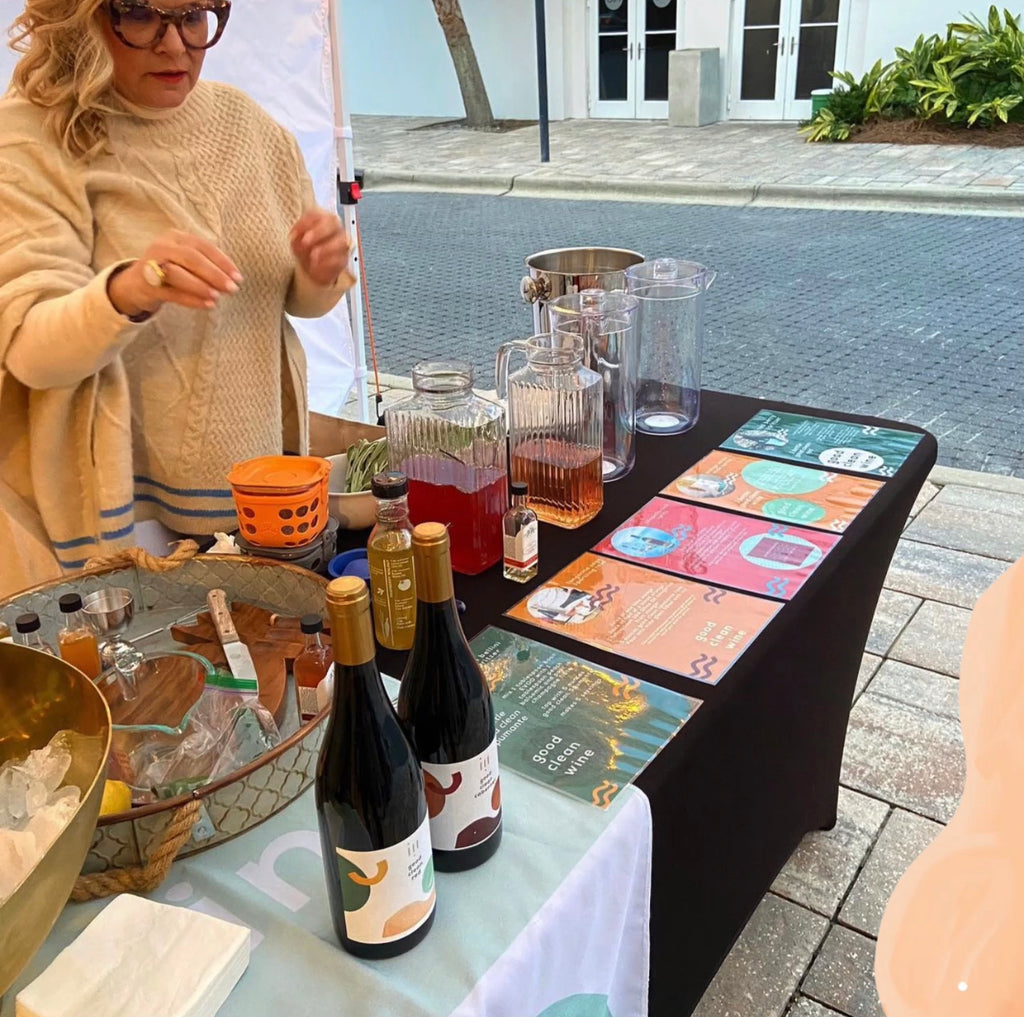 we've partnered with 30A Olive Oil to create good clean wine cocktails using their fruit vinegars. fruit vinegar is a fresher and healthier mediterranean style flavored vinegar, made by fusing high quality white wine vinegar, grape must and whole crushed fruit. no sugar is added to make 30A Olive Oil fruit vinegars so they are a perfect way to add flavor and zing to our spritzers. you can use the incredibly versatile 30A Olive Oil vinegars on salads, greens, seafood, chicken, cocktails, desserts, added to energy and sparkling waters, and our good clean wine spritzers. 
buy the gluten free, vegan, non-gmo 30A Olive Oil fruit vinegars with no added sugars here
good clean wine spritz recipes  
tangerine sage sparkling rosé: juice of one lime wedge, juice of half of a blood orange, 1 tablespoon 30A Olive Oil tangerine fruit vinegar, 5 ounces good clean spumante rosé. pour over wine glass filled with ice. slap a sage leaf between the palm of your hands to release the natural oils of the herb and place on top of your drink for garnish. 
jalapeño rosé spritz: the juice of 2 limes, 1 jalapeño sliced thinly, passionfruit jalapeño 30A Olive Oil fruit vinegar , 1 bottle synchronized swimming rosé, combine all ingredients in a pitcher and serve. slap a mint leaf between your hands and garnish each drink with a mint leaf. makes 5 drinks. 
red berry spritzer: 1 bottle 30A Olive Oil blueberry fruit vinegar, bottle of good clean red, 1 12 ounce can of black berry la croix, combine  all ingredients into a pitcher. place frozen blueberries in a wine glass and top with red wine berry spritzer. makes 5 drinks. 
mango white wine spritz: 1 bottle good clean white wine, 1 bottle 30A Olive Oil mango fruit vinegar, 10 ounces club soda. combine all ingredients in a pitcher and serve in an ice filled wine glass. makes 6 drinks. 
basil bellini spritzer: mix 1 TB basil EVOO with 1 TB peach balsamic vinegar and pour in champagne flute and top with 5 ounces good clean spumante. garnish with a mint sprig.