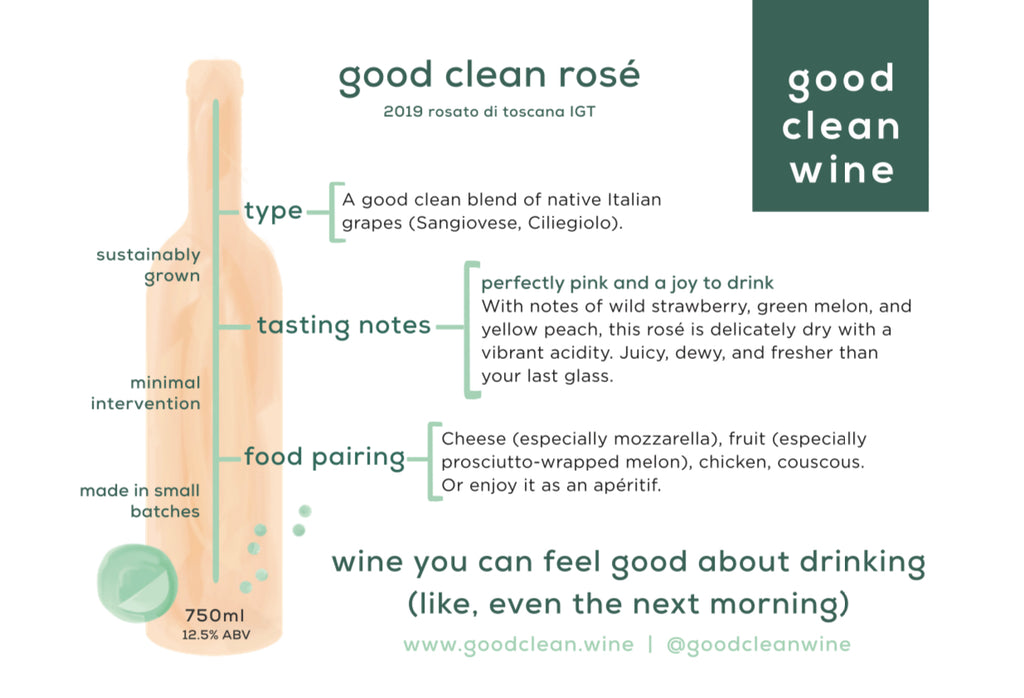 good clean rosé igt 2019
"bright and balanced, good clean rosé is one of the best priced elevated rosé wines on the market." – anna f.
seasons may change but your wine doesn't have to. we enjoy good clean rosé all year long. fruity and fresh, with a charming character. good clean rosé is just delicious, plain and simple. it represents everything good clean livin embodies. a full, lush, elegant, savvy, quality of life. 
description: it's as light and smooth as it is elegant with a bright, vibrant, cherry pink color. aromas of wild strawberry over an elegant floral background of red rose petals. the sangiovese comes forth with maximum expression of terroir from the hills of tuscany: fresh wild strawberry, yellow peach and green melon notes with brisk acidity and a fruity, yet dry finish. elegant and floral, refined red fruit flavors with crisp and balanced acidity. you might taste strawberry, yellow peach and green melon with a delicate and long, fruity and mineral finish.  an enjoyable, luminous rosé wine.
region: made by grape growers and winemakers using 100% sustainable farming and minimal-intervention in the appellation of maremma on the southwest coast of the tuscan wine region. the mistral wind coming down through france hitting the coast of italy gives the grapes strength and structure. the wines produced here are less expensive than other parts of tuscany yet the quality is outstanding. our grape growers and wine makers mix traditional winemaking with modern techniques to perfect the wines. they move forward with innovation but also look back at tradition. 
winemaking: when visiting during the harvest season, we learned about their focus on innovation, tradition and knowledge. we witnessed the collection of the grapes and saw each step of the production from the very beginning. innovation and tradition go hand in hand in order to create good clean wines. you'll taste all the flavors of this territory every time you take a sip of good clean rosé.
grapes: a refreshing blend of native italian grapes from the tuscan countryside near the sea. you can taste the unique and perfect combination of climate, soil and altitude with little outside intervention.
sangiovese: one of the most important red grapes in italy. the clone that  can be usually found in this area of maremma is called morellino. sangiovese, as a grape variety, also grows abroad in california and argentina. its origins are ancient as the etruscans. sangiovese means sangue di giove, blood of jove.
ciliegiolo: its origins are uncertain. according to some sources, it arrived in tuscany from spain, brought by pilgrims back from santiago de compostela, in the 19th century. according to recent studies it originated in italy, and could be the father of sangiovese. the name derives from its colour – ciliegiolo as in ciliegia, cherry. it has always been a popular blend with sangiovese and recently has become the main feature in blends.
training system: spurred cordon and guyot
vine density: between 3500 and 4200 plants / hectare
type of soil: mostly sandy and rich in silt
altitude: 250 mt above sea level
age of vines: 5-7 years
harvest period: mid september
fermentation: grapes are harvested and preserved with carbonic snow. fermentation at controlled temperature (max 27°c) follows, with maceration on the skins for a few hours only. drawing off and completion of fermentation without the skins. malolactic fermentation is completed naturally.
maturation: in stainless steel tanks for 3 months on fine lees.
bottling: starting from january of the following year. 
ageing potential: best drank young, within 2 years from it's harvest.
pairs with: cured meat starters, rich pasta dishes with meat based sauces, main dishes made with white meat or fish soups.
serving temperature: 14°c
recommended glass: a medium-sized, tulip shaped glass.
alcohol: 12.73% abv
acidity: 5.86 g/l
residual sugar: 2.84 g/l .42 grams residual sugar per 5oz glass of wine. residual sugar in popular conventionally made rosé wines can range from 10-120 g/l.
calories: 118 per 5oz glass 
carbs: 3.6 grams per 5oz glass 
sulfites: free 23 mg/l, total 82 mg/l
igt: indicazione giographica tipica. a wine classification introduced in 1992 as part of the general reorganization of the d.o.c. italian wine law, to safeguard the quality and authenticity of the wine. these safeguards form regulated protected zones to ensure a higher quality of wine. this category of wine allows more freedom than doc and docg levels but ensures a higher quality of wine than the relatively unregulated table wine category.
it's good to enjoy by the glass, by the bottle, and by the company of your nearest and dearest. great minds drink alike.
it's clean and minimal-intervention, produced naturally and grown sustainably in small batches in the toscana region. with fewer additives, you can drink tonight and still play tomorrow morning.
it's wine you can feel good about drinking. wild strawberry, yellow peach and green melon flavors are delicately dry, with a hint of a smile. 
order good clean rosé here.