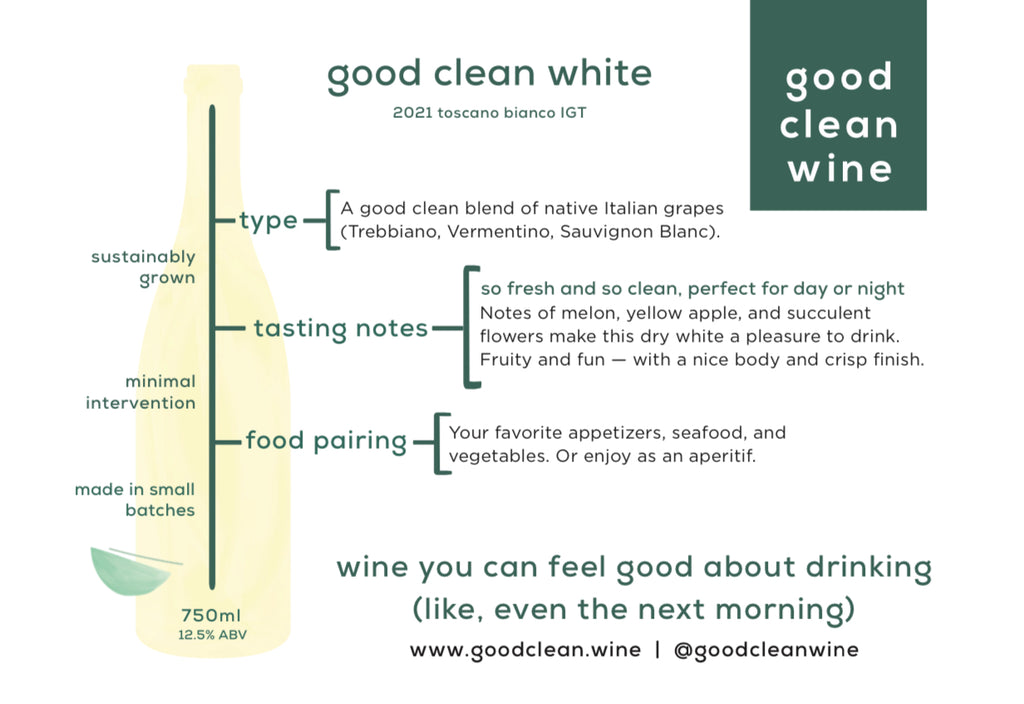 good clean white igt 2021
"good clean white is high quality wine that's easy on the wallet." – liz s.
a perfect balance of big fresh floral aromas and citrus flavors. good clean white is a memorable party guest because it's easy drinking, interesting and neither too light nor too bold.
description: the color is straw yellow with green highlights. on the nose it bestows intense and pleasant scents of white flowers, elderberry and wysteria and the fruits of pear and apples with subtle aromatic herbs. on the palate, it's pleasant and lively, dry & medium bodied. vibrant acidity with notes of zingy lime, white peach and a mineral finish express the essence of it's origin. unoaked, crisp and fresh, delightfully dry. not buttery and not sweet.
region: made by grape growers and winemakers using 100% sustainable farming and minimal-intervention in the appellation of maremma on the southwest coast of the tuscan wine region. close to the sea, in the untouched countryside in the province of grosseto. a land full of well-kept secrets, gentle rolling hills, defined by plots of wheat, scattered with vineyards and olive orchards dotted with sheep. here and there a farm appears on a hilltop with a view that stretches to the tyrrhenian sea.
winemaking: maremma's sandy soils mixed with silt and the area's proximity to the sea provide excellent conditions for growing trebbiano and vermentino, the predominant grapes in our good clean white. the regions unique terroir provides quality from the start to produce good wine.
grapes: a refreshing blend of native italian grapes from the tuscan countryside near the sea. you can taste the unique and perfect combination of climate, soil and altitude with little outside intervention.
trebbiano: fresh and fruity, food-friendly grape producing tough-skinned berries that yield yellow juice. grown in italy as far back as roman times. dry, medium-light body, no tannins, medium-high acidity with flavors of peach, lemon, green apple, seashell and basil.
vermentino: an underrated, fantastic grape commonly grown in tuscany on slopes facing the sea where they can benefit from reflected light. produces light-bodied and deliciously complex, high quality wines for a great value. dry, with flavors of grapefruit, citrus, crushed mineralogy and saltiness from the sea.
sauvignon blanc: planted in sandy, silt, clay and tuffaceous soil produces a dry, medium-light body with no tannins and acidity. flavors of gooseberry, honeydew and white peach.
training system: spurred cordon
vine density: 4000 plants / hectare
type of soil: sandy and rich of silt
altitude: variable from 100 to 300 metres a.s.l.
age of the vines: 5-7 years
harvesting time: mid september
fermentation: grapes are harvested and preserved with carbonic snow. low temperature pressing in inert atmosphere; fermentation of the prime must at controlled temperature; free-run must fermentation at controlled temperature (max 16°c). no malolactic fermentation.
maturation: in stainless steel tanks for three months with the lees.
bottling: starting from january of the following year.
ageing potential: best drank young, within 2 years from its harvest.
pairs with: hard italian cheeses, chicken pesto pasta, shrimp-arugula salad, chèvre cucumber topped baguette slices and italian fried artichokes. 
serve at: 45-55 degrees in a white or universal glass. 
alcohol: 12.5% abv
acidity: 5.27 g/l
residual sugar: 3.80 g/l, less than .56 grams per residual sugar per 5oz glass. residual sugar in popular sweet white wines like muscato can contain up to 14.7 grams pf sugar per glass. regular chardonnays and dry white table wines can contain up to 1.4 grams of sugar per glass. 
calories: 120 per 5oz glass
carbs: 3.8 grams per 5oz glass
sulfites: free 29 mg/l, total 86 mg/l
igt: indicazione giographica tipica. a wine classification introduced in 1992 as part of the general reorganization of the d.o.c. italian wine law, to safeguard the quality and authenticity of the wine. these safeguards form regulated protected zones to ensure a higher quality of wine. this category of wine allows more freedom than doc and docg levels but ensures a higher quality of wine than the relatively unregulated table wine category.
it's good to sip from day to night, hitting the spot like a lover in lucca. for you to love deeply and pour generously.
it's clean and minimal-intervention, produced and grown sustainably in small batches. with fewer additives, you can drink tonight and still go for a run tomorrow morning.
it's wine you can feel good about drinking. refreshing notes of melon, yellow apple, and white flowers are crisp and bright. like you.
order good clean white