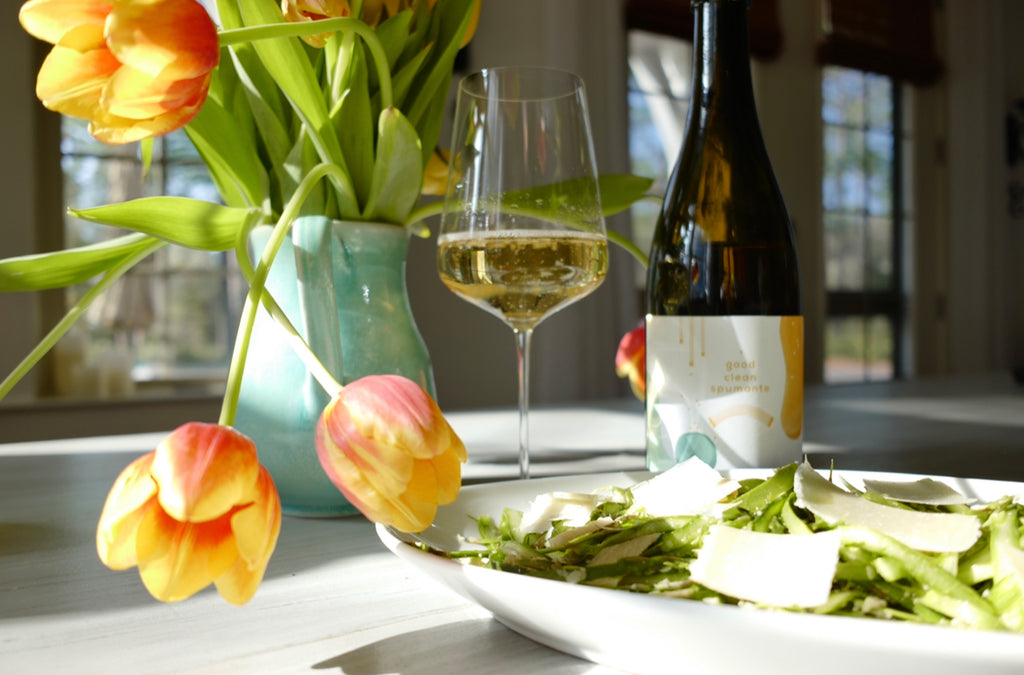 Just harvested sweet asparagus makes for an easy, elegant spring salad. A really quick-and-dirty way to pair wine and food is to simply pair things from the same region. In this case, we are pairing good clean spumante from Modena, Italy with shaved asparagus with parmesan vinaigrette from nearby Parma. 
Shaved Asparagus with Parmesan Vinaigrette & Good Clean Spumante 
Ingredients: 12 large asparagus spears (about 1 lb.), trimmed and peeled
1/4 cup finely grated Parmesan plus a piece for shaving
1 1/2 Tbsp. fresh lemon juice
Sea salt and freshly ground black pepper
Use a vegetable peeler to shave washed and uncooked asparagus spears into long, thin shavings. Transfer to a medium bowl (the tips will snap off as spears get thinner; add to bowl). Combine grated Parmesan and lemon juice in a small bowl and slowly whisk in oil until well blended. Season vinaigrette generously with salt and pepper. Drizzle vinaigrette over shaved asparagus and toss to coat. Divide asparagus salad among 4 plates. Use peeler to shave more Parmesan over salad.
Serve with good clean spumante, our light and fruity sparkling white wine that is ready for every occasion.