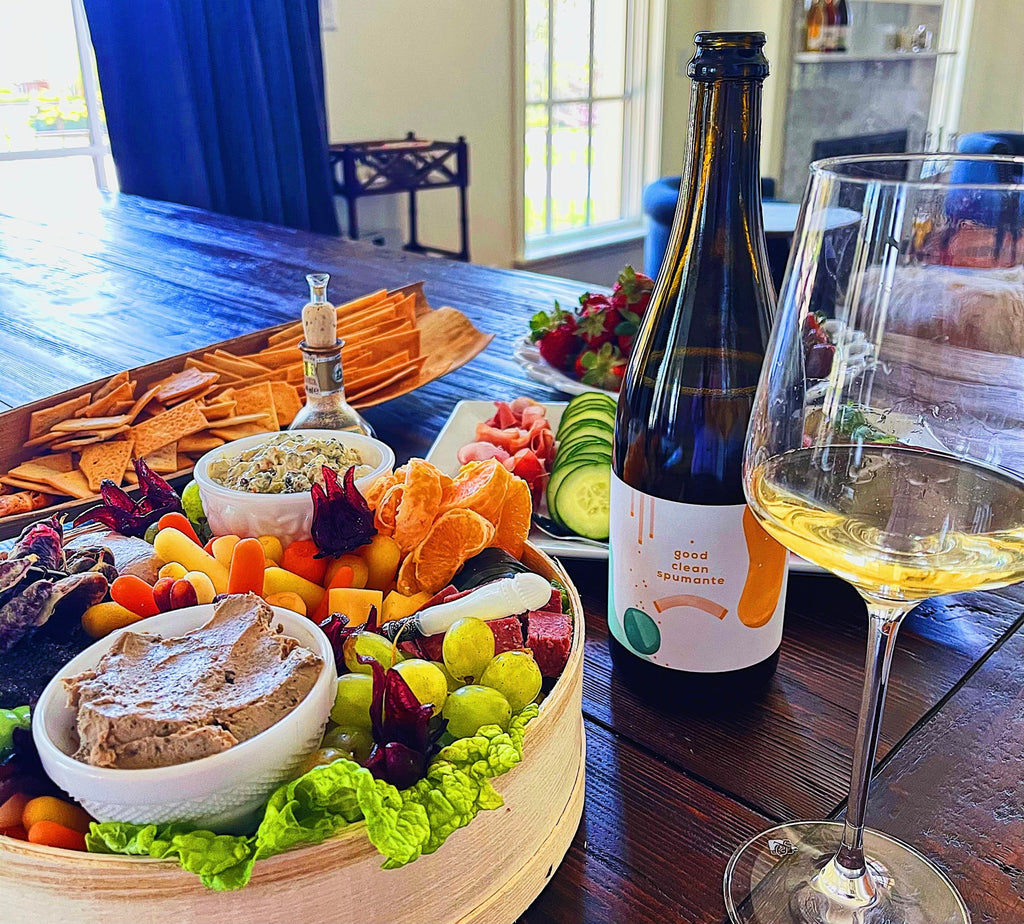 we love charcuterie! there is nothing quite like pairing our favorite wines with complementary cheese and cured meats. together their flavors marry to balance the flavors of both the wine and the cheese.
charcuterie is a french word that references prepared and cured cold meats that is often paired with cheese, crackers, and fruit when served on a wooden board. not every charcuterie board is created equal, but they are all created awesome. 
inspired by the seasonal colors and foods of spring, i looked to source what's local and fresh to create this good clean spring charcuterie board. it pairs well with all five good clean wines and we paired it with good clean spumante. the fresh green apple flavor and elegant bubbles enhances the taste of spring strawberries, grapes, blood and mandarin oranges. 
i assembled my board in a round, wooden cheese box. then, layered napa cabbage leaves in the bottom to create a soft bed to lay the ingredients. i added spinach dip and truffle mousse pate to milk glass goblets to elevate the dips and add visual dimension and allow me to fit more goodies on the board.
ingredients:
fresh vegetables: colorful ones such as cucumbers, rainbow baby carrots, napa cabbage leaves.
fresh fruit: grapes, strawberries, blood oranges, mandarin oranges.
cured meats: prosciutto, a thinly sliced italian cured ham with a salty flavor that pairs well with vegetables, cheese, and good clean wine. cubed summer sausage which pairs well with unoaked white wines. 
cheese: soft, semi soft, semi hard and hard cheese are all great options for charcuterie board. i added cubed comté, our absolute favorite cheese in the world. made in france on the eastern border near switzerland, it's an alpine cheese and pairs well with both red and white wine. whites made with sauvignon blanc and vermentino, like good clean white, and sparkling whites pair well with creamy, young cheeses like brie and chevre. for this reason, i chose double creme brie topped with black truffle puree and spreadable blueberry flavored chevre.
crackers: salty and crunchy crackers are the perfect addition paired with cheese and cured meats. i arranged sea salt flatbread crackers, delicate olive oil crackers and crispy cheese twists in a dried palm leaf dish. 
dips: a seasonal dip like green goddess or spinach dip can be the center of your beautiful board. i also added whipped duck pate mousse with black truffles which pairs lovely with good clean red, rosé and spumante. 
decorate the finished board with edible spring flowers, dried culinary herbs and fruits with stems, vines and leaves still attached. i embellished this board with sweet edible hibiscus flowers and chocolate covered strawberries. 
this combination makes the perfect meal at any point of the day, is easy to make, offers variety and goes with all 5 good clean wines. 
don't be intimidated, don't overthink the process…turn on some mario biondi music, pour a glass of good clean wine and give it a try!