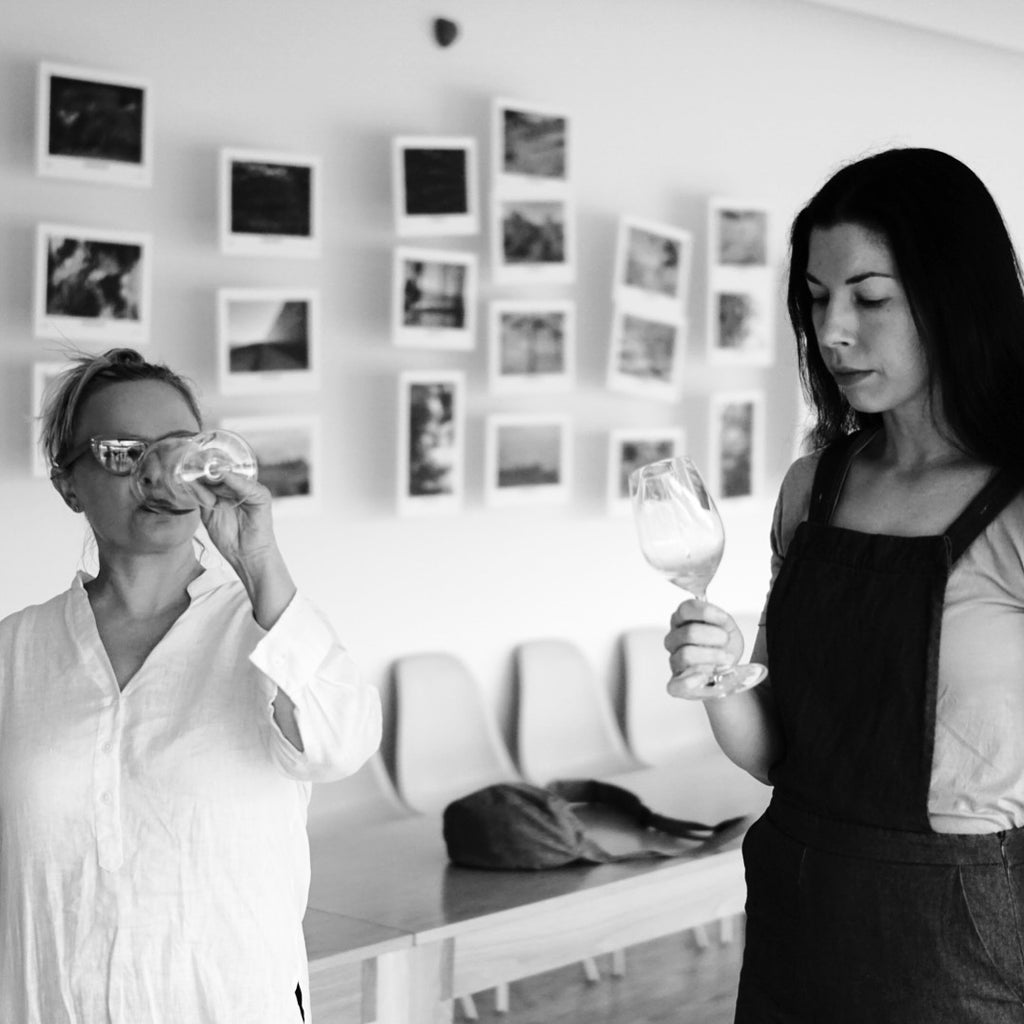 How it began...
In the beginning, there was a tasting. In 2018 we set out on a European journey to find the purest, most delicious wine that would eventually become Good Clean Wine.
We traveled to Austria, Germany, France, Spain, and Hungary. The photo above is us in Portugal tasting the wine that almost became Good Clean Wine. (And it still might someday! Portugal has outstanding wine, as does every other country we visited.)
In the end we landed in Italy and it was love at first sip. Good Clean Wine is lovingly made in Maremma, Tuscany (red, white, rosé) and Emilia-Romagna (spumante and spumante rosé).

Ok, how it
 

really

 

began.

We own a spa, skincare boutique, and product line called Good Skin Day. Our clients trust us to bring them the best services and products, with no BS or bias.

Michelle is a holistic esthetician and former chef, and Courtney is a former beauty and health editor. Everything we do is part of what we call the good skin lifestyle, which includes attention to what we put on and in our bodies, how we take care of our health and minds, relaxing, and having fun.

Wine has always been a staple at the spa. We offer it to clients, walk in shoppers, and we serve it at events. Friday afternoons became wine happy hours where we would post about drinking wine at the spa, and people could just stop by and have some.

After awhile, we started noticing that we were fielding more questions about the wine than we were about the skincare. We started hearing tales of terrible headaches puffy eyes, red splotchy skin, stuffy noses, even rashes after just one glass of wine. People who hadn't had a glass of wine in 10 years were suddenly able to enjoy a glass with us.

Our secret (although we didn't realize it at the time) was clean wine. Michelle had been visiting wineries in Europe for years as a personal hobby, meeting winemakers and learning about winemaking, and would bring delicious, clean wine back from Europe in her special wine suitcases. These wines were made in sustainable vineyards, with no additives or artificial ingredients, often in family-run vineyards that honor the land. Our clean wine happy hours made us and our clients feel good.
Good Clean Wine is born
It's not that clean wine doesn't exist, it's that the casual wine-drinker doesn't know how to find it.
There are so many amazing wines out there, but the wine world tends to only talk to itself. The casual wine-drinker looking for a delicious wine to drink with friends is often intimidated by chateau this or domaine de that. We realized that we needed to bring this amazing wine to a group of people who would otherwise not know how to find it. We decided to take the intimidation factor out of wine and bring the fun part back.
We chose the word "clean" because our skincare clients already had a frame of reference for what that means. Clean is an unregulated word — anyone can claim to be "clean," whether they are or not.
The only way to really know if your wine is what it claims to be is to know your winemaker. We travel to Italy at least once per year to spend time on the vineyards, mingle among the beautiful stainless steel tanks, learn about new sustainability initiatives, and pet all the cute vineyard dogs. And, of course, we taste a lot of wine. We love our winemakers and are honored that they allow us to bring their beautiful wine into the United States.
How we live now
Wine is a part of our lives, and we want it to be a part of yours, too. We hate that so many people are intimidated by wine. Wine is for everyone, not just experts and wine snobs. We do the research for you so all you have to do is focus on having fun.
If you'd like more information about our wine and where it is from, you can find it in our FAQ. If you have any other questions, you can email us at admin@goodclean.wine.
Cheers!
Michelle + Courtney