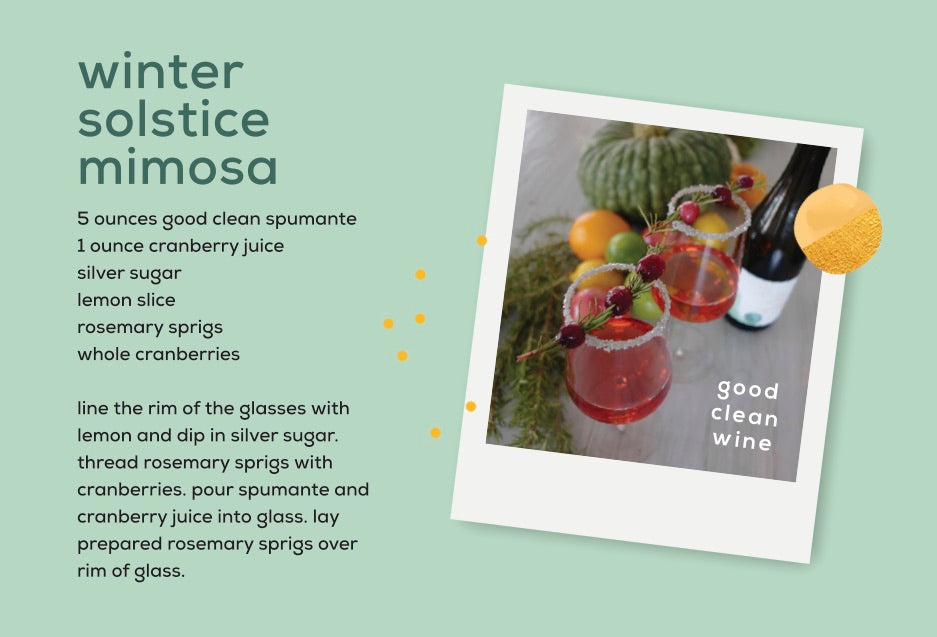 join us live from our bar cart with special guest kendra of lavish grazing (from her kitchen) for a winter solstice aperitivo hour.
friday, december 18th, 2020, 4pm/5pm ct/et on @goodcleanwine instagram
gather good clean winter solstice mimosa ingredients and lavish charcuterie board ingredients, both listed below. if you live in springfield, missouri you can purchase a lavish ingredient kit, password: goodcleanfun
learn all our spritz and board secrets and slide into a festive friday night within the comfort of your own home. hope to see you there!
lavish charcuterie shopping list
tools: sharp knife & cutting board, small bowl for olives, mustard, honey
before we start: wash your produce, cut your cucumbers into slices, cut your strawberries down the middle, leave the greenery on, slice your apple
cheese: brie, cranberry & cinnamon flavored goat cheese, gouda, white cheddar
sliced charcuterie meats: prosciutto, genoa salami, cured sausage
fruits and vegetables: cranberries/sugar coated cranberries, fuji apple, grapes (we prefer red and purple), blackberries, blueberries, strawberries, small tomatoes (colorful variety, plain red ones will work also), cucumber (mini or regular sized), olives or stuffed olives
other items: nuts and dried fruit of your choice (we like to use walnuts and dried cherries, dried apricots, dried pineapple slices, dried orange slices, almonds, mixed nuts. just to give you a few ideas.)
jam of your choice: (we use fig, plum is also nice this time of year) mustard of your choice (we use a stone ground or spicy mustard)
garnish: rosemary, thyme, sage, or mint
crackers: a variety pack, crisp flatbreads, or a small loaf of french bread