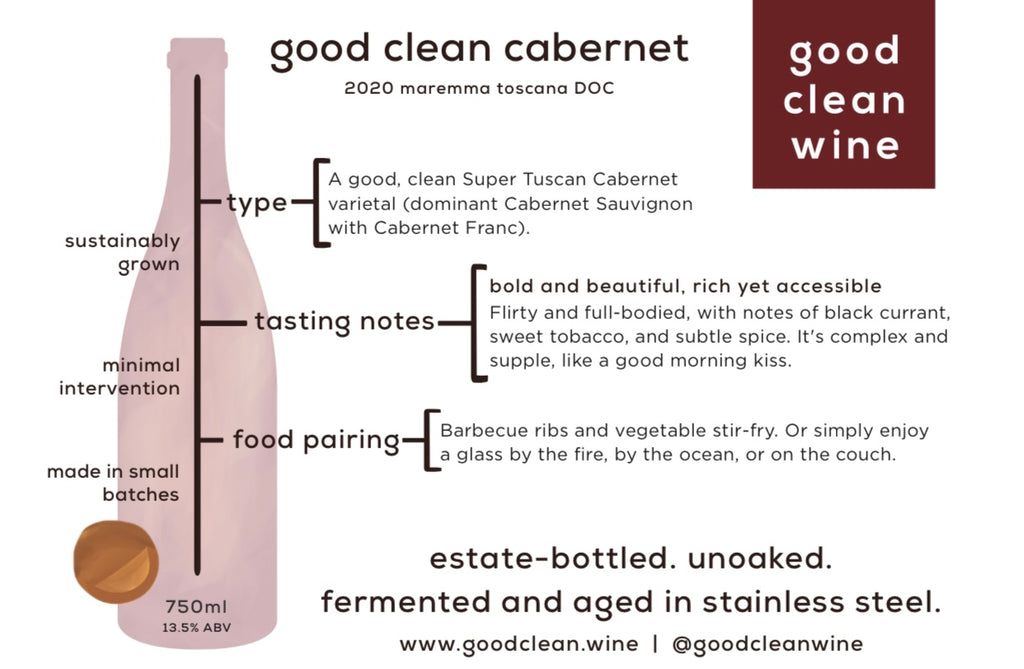 good clean cabernet doc 2020
"gorgeous fragrances rising from the glass with a rich long finish, good clean cab represents the fine wines i love from the tuscan wine region." – dawn o.
this is our super tuscan wine made with cabernet sauvignon and cabernet franc, estate grown in maremma, the southwest coast of tuscany facing the mediterranean sea.
description: full bodied, round, elegant and well balanced with a long and harmonic finish. a dark, rich, exuberant wine. moderate to intense ruby red color. it's beautiful and smooth. herbal, mineral, black currant, black cherry, spring flowers, earthy aromas, and elegant flavors. rich and concentrated, complex and mellow. 
region: made by grape growers and winemakers using 100% sustainable farming and minimal-intervention in the appellation of maremma on the southwest coast of the tuscan wine region. south of siena, the vines are planted in rolling hills among cypress trees in volcanic soil. known for affordable land, inexpensive production costs and a warm maritime climate. made with lesser-known indigenous grapes by smaller producers working hard to make wine in a place that isn't famous. it's hours away from major airports but the climate and soils are well suited to allow the native grapes to express themselves. the strength of this wine region is the focus on native and traditional grape varieties.
winemaking: good clean wine producers and winemakers spend a lot of time in the vineyard nurturing the vines, to grow the best quality grapes. they listen to nature and react accordingly to the vineyard and grapes day by day, month by month and year by year to do what is best for the vineyard in any given situation. they implement a combination of organic, biodynamic and biodiverse farming and winemaking processes to grow healthy grapes in the vineyard. with the ultimate goal of bringing healthy grapes to the winery to make good clean wines. the result is wine that truly tastes like the grape varietal, the vineyard, season and site.
grapes: a refreshing blend of native italian grapes from the tuscan countryside near the sea. you can taste the unique and perfect combination of climate, soil and altitude with little outside intervention.
cabernet sauvignon: provides structure, acidity, tannins and aromatic complexity. flavors of cassis and tobacco. the tuscan cabernet brings a slightly floral and bold black cherry, plum and bell pepper aroma and a hint of spice, black-currant jam and sweet tobacco on the palate. with a nice mineral component adding structure and lingering tannin finish. 
cabernet franc: rich and complex and more durable than merlot in the warmer tuscan climate. with high sun exposure, the cabernet franc planted in sandy soils benefit from cooling influences in higher altitude terroirs closer to the sea. it maintains its aromatic lift and complexity. 
traning system: spurred cordon and guyot
vine density: 43500/500 plants / hectare
type of soil: 75% sandy and rich in silt, 25% clay
altitude: variable between 100 and 300 mt above sea level
age of vines: 5-7 years
harvest period: mid september
fermentation: grapes are gathered and preserved thanks to the use of dry ice. vinification at low temperature (max 27°c) with maceration on the skins for 4 days, then the wine is drawn off and the fermentation is concluded without contact with the skins. normal malolactic fermentation follows. we ferment it in stainless steel tanks at low temperature without barrel aging to naturally extract fruit with no manipulations.
maturation: stainless steel and bottle. no oak fermentation nor oak aging. we ferment it in stainless steel tanks at low temperature without barrel aging to naturally extract fruit with no manipulations. 6 months skinless steel plus three months in the bottle. 
bottling: starting from march of the following year
ageing potential: best drank young, within two years from it's harvest
pairs with: bbq ribs, lamb, veal, cured meat, vegetable stir fry 
serving temperature: 16°c
recommended glass: a large bordeaux-style glass.
alcohol: 13.5% abv
acidity: 4.83 g/l
residual sugar: 3.42 g/l  .50 grams residual sugar per 5oz glass of wine. residual sugar in popular conventionally made red wine generally available has up to 12-57 g/l residual sugar.
calories: 116 per 5oz glass
carbs: 3.4 grams per 5oz glass
sulfites: free 28 mg/l, total 91 mg/l
doc: denominazione di origine controllata. a wine law to regulate where the grapes can be grown, the production methods used to produce the wines and ensure the wine is of superior quality.
it's good for an evening with your finest few. rich and concentrated, like seduction after midnight. complex and supple like a good morning kiss.
it's clean and minimal-intervention, produced and grown sustainably in small batches. it's smooth like a hand on your thigh, bold like eye-contact, held.
it's wine that flirts back. sweet tobacco and earthy aromas delight your sense, while dark berries and a hint of spice taste like the night is still young. 
order good clean cabernet here.