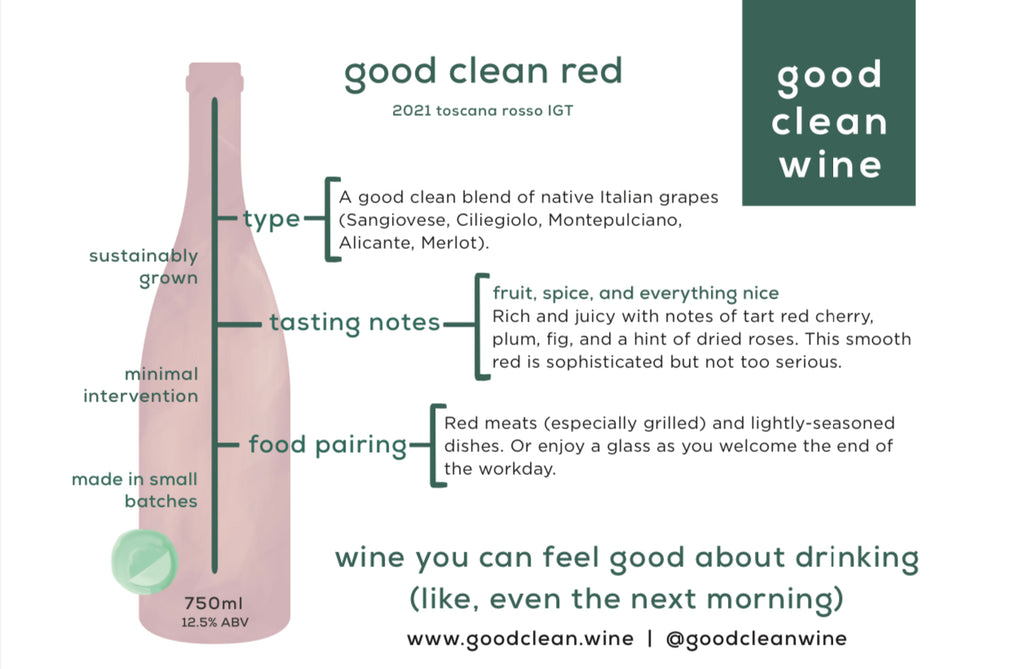 good clean red igt 2021
"this brand is the most affordable, clean option that won't give you a headache the next day." – josie s.
elevated, gastronomic red table wine you can afford to share. dry, fruity and easy to drink. it tastes like an old world tuscan wine with a new world super tuscan flair. good clean red will bring a touch of tuscany to your meal.
description: rich ruby red color with a pleasant fresh and fruity aroma. notes of plums, blueberries and blackberries, cherry and a little spice. juicy and medium structured on the palate. it is dry and well balanced by subtle and round tannins. with each sip you experience a long, clean and characterful finish.
region: made by grape growers and winemakers using 100% sustainable farming and minimal-intervention in the appellation of maremma on the southwest coast of the tuscan wine region. south of siena, the vines are planted in rolling hills among cypress trees in volcanic soil. known for affordable land, inexpensive production costs and a warm maritime climate. made with lesser-known indigenous grapes by smaller producers working hard to make wine in a place that isn't famous. it's hours away from major airports but the climate and soils are well suited to allow the native grapes to express themselves. the strength of this wine region is the focus on native and traditional grape varieties. 
winemaking: good clean wine producers and winemakers spend a lot of time in the vineyard nurturing the vines, to grow the best quality grapes. they listen to nature and react accordingly to the vineyard and grapes day by day, month by month and year by year to do what is best for the vineyard in any given situation. they implement a combination of organic, biodynamic and biodiverse farming and winemaking processes to grow healthy grapes in the vineyard. with the ultimate goal of bringing healthy grapes to the winery to make good clean wines. the result is wine that truly tastes like the grape varietal, the vineyard, season and site.
grapes: a refreshing blend of native italian grapes from the tuscan countryside near the sea. you can taste the unique and perfect combination of climate, soil and altitude with little outside intervention.
sangiovese: one of the most important red grapes in italy. the clone that  can be usually found in this area of maremma is called morellino. sangiovese, as a grape variety, also grows abroad in california and argentina. its origins are ancient as the etruscans. sangiovese means sangue di giove, blood of jove.
ciliegiolo: its origins are uncertain. according to some sources, it arrived in tuscany from spain, brought by pilgrims back from santiago de compostela, in the 19th century. according to recent studies it originated in italy, and could be the father of sangiovese. the name derives from its colour – ciliegiolo as in ciliegia, cherry. it has always been a popular blend with sangiovese and recently has become the main feature in blends.
montepulciano: likely originated in tuscany and may be related to the sangiovese grape. when used in a blend, it adds hearty full-body to wines. likes to be planted in cooler areas near the windy sea which allow the slow, even ripening required for the best quality tuscan red wines. ripens very slowly, and needs a long hang time, but the warm marine winds from the tyrrhenian sea naturally speed up the ripening of our grapes. the best flavor emerges when made in stainless steel or neutral non-oak tanks. 
alicante: this grape variety of french origins was created by henri bouschet who crossbred grenache with petit bouschet. the result is a grape variety rich in color which can be used by itself or to add a richer color to a blend. it's commonly found in france and spain. in maremma, especially in scansano and magliano in toscana, it is commonly used to blend with sangiovese.
merlot: a blue-colored grape used as a blending grape and a varietal. the name derives from the french word meaning blackbird. it's a soft and fleshy grape offering ripe, fruity aromas and complex, supple, full-bodied flavors. added to our red to give it the feel of a super tuscan. 
traning system: spurred cordon and guyot
vine density: 43500/500 plants / hectare
type of soil: 75% sandy and rich in silt, 25% clay
altitude: variable between 100 and 300 mt above sea level
age of vines: 5-7 years
harvest period: mid september
fermentation: grapes are gathered and preserved thanks to the use of dry ice. vinification at low temperature (max 27°c) with maceration on the skins for 4 days, then the wine is drawn off and the fermentation is concluded without contact with the skins. normal malolactic fermentation follows.
maturation: in stainless steel tanks for three months on fine lees
bottling: starting from march of the following year
ageing potential: best drank young, within two years from it's harvest
pairs with: cured meat starters and bruschetta, medium rare pork loin, pasta dishes with meat sauce, meat main dishes, rosemary potatoes and tiramisu
serving temperature: 16°c
recommended glass: a large bordeaux-style glass.
alcohol: 13% abv
acidity: 4.83 g/l
residual sugar: 3.42 g/l  .50 grams residual sugar per 5oz glass of wine. residual sugar in popular conventionally made red wine generally available has up to 12-57 g/l residual sugar.
calories: 116 per 5oz glass 
carbs: 3.4 grams per 5oz glass 
sulfites: free 28 mg/l, total 91 mg/l
igt: indicazione giographica tipica. a wine classification introduced in 1992 as part of the general reorganization of the d.o.c. italian wine law, to safeguard the quality and authenticity of the wine. these safeguards form regulated protected zones to ensure a higher quality of wine. this category of wine allows more freedom than doc and docg levels but ensures a higher quality of wine than the relatively unregulated table wine category.
it's good for any time, any occasion. smooth like meditation, full like an orgasm. pairs best with good food, deep conversations, and deeper glasses.
it's clean and minimal-intervention, produced and grown sustainably in small batches.
it's wine you can feel good about drinking. tart cherry and plum notes make it rich and juicy, like a well-kept secret.
order good clean red here.