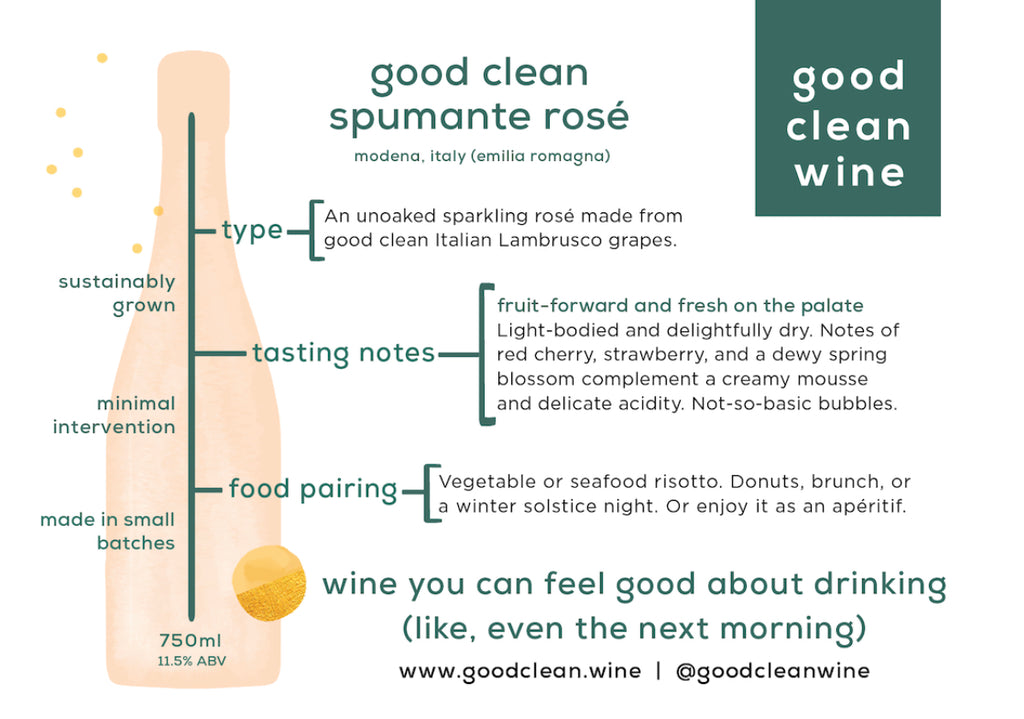 good clean spumante rosé doc – sparkling rosé wine from modena italy
"this sparkling rosé is so natural you're basically doing yoga when you drink it. plus it has expensive-feeling bubbles and hints of pomegranate." —katie buckleitner, associate digital art director, cosmopolitan
delicate sparkling wine with notes of tart red cherry, fresh strawberry, and a dewy spring blossom. sweet and dry flavors that sparkle on your tongue. ideal for a romantic celebration. perfect as an aperitif, or for making wine cocktails and mimosas.
description: spumante means sparkling. the italian term given to sparkling wine made in the 1800's with a blend of various lambrusco grapes. un-oaked, natural wine with no added sulfites. medium-bodied and delightfully dry. delicate cherry pink in color with a floral bouquet. the palate is fresh with notes of cherries, strawberries and blossom combined with a creamy mousse and delicate acidity.
region: sparkling rosé from modena province in the emilia-romagna region of italy. located in the northeast part of central italy, known as the land of bubbly wine and tortellini. the vineyard soil, sandy and wet, rich in nutrients, surrounded by poplars and elms, makes for a magnificent sight. known for its rich food products (parmigano-reggiano cheese, prosciutto di parma ham, bolognese and balsamic vinegars) and as the birthplace of beautiful sparkling wines respectful of tradition. this region was declared by forbes as italy's greatest gastronomic treasure.
winemaking: wines which are respectful of tradition, but at the same time represent the lightheartedness of the region. good clean spumante grape growers and wine makers have full control of the production cycle from the vineyard to the bottle. good clean spumante is "naturally sparkling", meaning there is no addition of any co2. the bubbles are 100% natural because they are the result of the fermentation of the natural yeast that "eats" the fructose in the grape juice transforming it into alcohol and natural co2 (bubbles). cin cin to very natural bubbles!
grapes: a refreshing blend of native italian sorbara, and salamino grapes sustainably grown using organic and biodynamic farming, in emilia-romagna with little to no intervention.
sorbara: an indigenous lambrusco grape that can be found naturally growing on the edge of the woods throughout modena. a medium grape with thick, waxy, bluish-black skin. with high vigor, that matures late and produces a clear ruby-red colored wine with a pinkish froth and very fine aroma of violet that tastes delicate, fresh, fruity, and balanced.
salamino: indigenous emilia-romagna lambrusco black grape. ripens late and is often blended with sorbara to add a touch of natural sweetness, body, juicy acidity with a dry finish to brut sparkling wines. with aromas of red cherry, strawberry, blackberry, violet, and rose. ruby red in color.
type of soil: loose, permeable, sandy and rich of silt
training system: gdc, guyot or spurred cordon
vine density: 3000 plants / hectar
harvesting time: mid to late september
fermentation: spumante gets its bubbles from a two-step closed martinotti/charmat  then autoclave fermentation where native yeasts stimulate the fermentation. 
primary fermentation: the grapes are squeezed and as the must ferments it develops co2 that is allowed to escape to obtain the still wine . solids are filtered/removed after alcohol is made with a fossil floor filter, a micro-filter, a gross flyer, or tangential filter. 
secondary fermentation: to make the wines sparkling, the winemakers add the sweet filtered/filtrato dolce (pure natural grape juice derived and obtained from the freshly harvested and squeezed grapes that were micro filtered to separate the yeasts). we've tasted this naturally sweet freshly pressed grape juice that was separated from the yeasts right from that tank during our visit at harvest in 2019.
maturation: the separated yeasts are added to the pressurized stainless tank to start fermentation again, the co2 is captured and does not escape and then becomes sparkling. "co2 saturated environment": must = juice and skins, is kept in special presses saturated with natural co2 which protect the fermenting wines from oxidation without the need of adding sulfites.
bottling: starting from march of the following year.
ageing potential: best drank young, within 2 years from its harvest.
pairs with: vegetable or seafood risotto. strawberries and cream . spicy foods, donuts, bacon, brunch or cannoli.
serve at: 45-55 degrees in a white, universal glass, champagne flute or coup.
alcohol: 11.24% abv
acidity: 6.5 g/l
residual sugar: 10 g/l 1.47 grams residual sugar per 5oz glass of wine. residual sugar in popular conventionally made sparkling rosé wines generally have as much as 50 g/l of sugar per glass. sweet sparkling rosés can contain up to 129 grams of sugar per glass.  
calories: 100 per 5oz glass 
carbs: 2 grams per 5oz glass 
sulfites: total 102 mg/l
doc: denominazione di origine controllata. a wine law to regulate where the grapes can be grown, the production methods used to produce the wines and ensure the wine is of superior quality.
it's good on a winter solstice or a confidant's rooftop. with fine and persistent bubbles to warm up your appetite or cool down your zest. lighter than a proposal, fuller than a fling. 
it's clean with minimal-intervention, produced naturally in small batches in the modena region. a strong personality with a soft finish, like that friend you keep close. keep this bottle closer. 
it's wine with fresh and fruity notes of raspberries and wild strawberries. a juicy addition to dessert, or an alternative to it altogether.