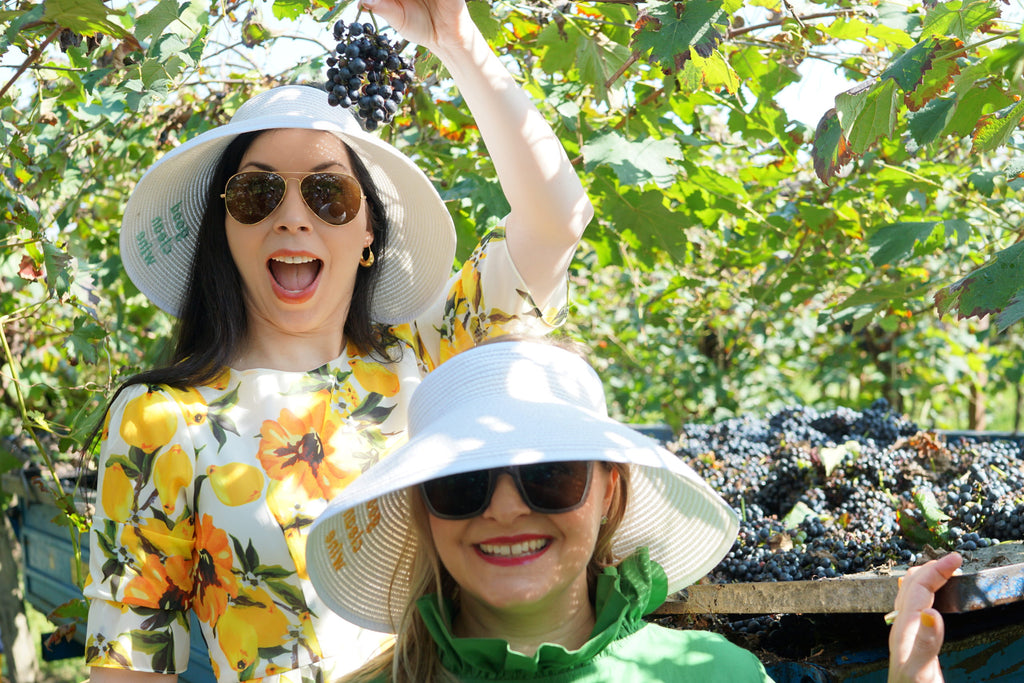 The only way to know if your wine is clean is to know your winemaker.
We know and work with families of farmers and winemakers that live and breathe their soil and love their land. When you buy Good Clean Wine, you support over 160 small family farmers who've grown grapes as their livelihood for generations. 
Good Clean Wine is made in a sustainable way with healthy grapes. Therefore, little to no intervention is needed to make Good Clean Wine.
Good Clean Wine is made in two beautiful, lesser known wine regions in Italy.
Good Clean Red, White, and Rosé are made by grape growers and winemakers using sustainable farming practices and minimal intervention in the appellation of Maremma, Italy, on the southwest coast of the Tuscan wine region. Close to the sea, in the untouched countryside in the province of Grosseto, it's a land of gentle rolling hills defined by plots of wheat, scattered with vineyards and olive orchards dotted with sheep. Here and there a farm appears on a hilltop with a view that stretches to the Tyrrhenian sea. 
Good Clean Spumante and Spumante Rosé are made naturally in the town of Carpi, in Modena county, in the Emilia-Romagna region of Italy known as the land of sparkling wine and tortellini. Good Clean Spumante is made in the Emilia appellation and Good Clean Spumante Rosé is made in the Modena appellation. They are made by passionate winemakers with knowledge of the land and Italian winemaking traditions who cultivate the vines, select and harvest the grapes by hand, and do the pressing and the bottling with hopes of touching your heart through a glass. Our vineyards planted in nutrient rich sandy and wet soils among poplars and elms offer a magnificent sight.
Our producers and winemakers spend a lot of time in the vineyard nurturing the vines to grow the best quality grapes. They listen to nature and react accordingly to the vineyard and grapes day by day, month by month, and year by year to do what is best for the vineyard in any given situation. They implement a combination of organic, biodynamic, and biodiverse farming and winemaking processes to grow healthy grapes in the vineyard.
They take extra care in the winery so that the characters of the grapes shine through when you taste the wine.
Social and environmental sustainability is our priority.
Attention to the environment and efficiency in the winemaking process allow us to provide delicious, environmentally friendly wine at accessible prices. Our grape growers and winemakers invest in the people who live near and work the land. Social sustainability means safeguarding the region and its traditions during all stages of wine production.
Grapes grown in sustainable ways produce healthy grapes, and then less intervention is needed to make Good Clean Wine.
Our sustainable farming practices organic procedures as much as possible, and biodynamic procedures to create happy, healthy, lively soil.
Biodiverse agriculture is farming that implements practices in the vineyard to balance the microorganisms that inhabit the vineyard soil. This creates a habitat that is blended with a variety of many other crops: wheat, grass for animal feeds, sunflowers, soy, corn, wild woods, naked/resting fields.
Drones, infra-red sensors, nir spectrometers, and microclimatic stations are used throughout the vineyards to collect data to send to our winemakers to help them manage and limit treatments in the vineyard to a bare minimum. These devices read the color of healthy grape leaves and compare all the leaves in the vineyard to gain a better of the grapes and again lower the interventions.
The terra system is installed in several parts of the vineyards to collect and send data from the vineyard to the winery. The sensor stations measure rain, humidity, sun exposure, air temperature, ground temperature, and underground temperature. Bionic leaves developed by the University of Pisa calculate the actual level of humidity on the leaves of the vine. Information is gathered to predict if and when it is needed to intervene in the vineyard which enables us to drastically reduce the number of interventions.
Sexual confusion instead of spraying chemicals that kill parasites, pheromones are spread to confuse them so that they do not mate and do not spoil the grapes. This reduces the use of chemicals, diesel fuel, and fresh water.
Using only the best grapes
Minimal to no intervention during fermentation and aging process.
Careful yeast selection/using natural indigenous yeast that performs better and provides better quality wines. The right balance of indigenous yeast and stainless steel tank fermentation to show the varietal expressions of the wines. We do not need to use extreme temperature control fermentation, which means less electrical power needed and less pollution.
Our wines do not require added sulfites before and during fermentation. Instead, natural tannins with poli-phoenolic molecules with high antioxidant power are used to protect the wine. It costs way more than sulfites, but we prefer health over cheap.
No citrus added, no micro-oxygenation induced
No coloring, no decoloring. No dye.

No pea protein. No tartaric acid or cream of tartar. (Both are often found in other "clean" wine.)
Sustainable cellar practices that reduce the carbon footprint related to to the production of grapes and wine reduced water consumption and waste water management reduces energy consumption by 30%, using solar energy as much as possible. An air mixing vinification system reduces energy used for vinification by 20%. Modern air-conditioning systems minimize the energy needed to heat and cool the winery and offices and windows are designed to reduce the need for artificial lighting. Eco-bottling systems reduce washing water and energy use by 40% and new cup elevators replaced the stem suction line to reduce energy used by 50%. A central storage warehouse and larger trucks make for fewer journeys reducing gas emissions.
Our wineries received the pef certification from the European Union. The first EU certification measuring the environmental footprint along the entire supply chain, from the vineyard to the disposal of the packaging. 
They are members of the programma nazionale per la valutazione dell'impronta ambientale. The program's aim is to promote business strategies that foster sustainable development.
In 2015 they received the viva sustainable wine certification. This program measures the vine-wine production chain based on four elements: territory, air, vineyard and water. Our winemakers collaborate with Università della Tuscia and Scuola Superiore Sant'anna di Pisa to develop and apply technologies in the vineyard and in the cellar to minimize the environmental impact.
The Good Clean Wine philosophy is to provide the cleaner product for the money. We work with wine producers that follow sustainable farming practices focused on lower quantities of grapes in the vineyards, which equals healthy grapes that do not need intervention or to be fixed with chemistry/chemicals.
While our wines are made naturally, we stray from using the word natural to describe our wines because it is a non-regulated term generally used to describe zero-intervention wine.
We do not claim our wines as biodynamic, vegan, or organic because those are all certifications our wineries have chosen not to get. We believe organic and biodynamic procedures are a great guideline to follow. We also know that one solution in nature and winemaking does not work. Nature must be listened to and our grape growers and winemakers react accordingly, day by day, month by month, year by year.