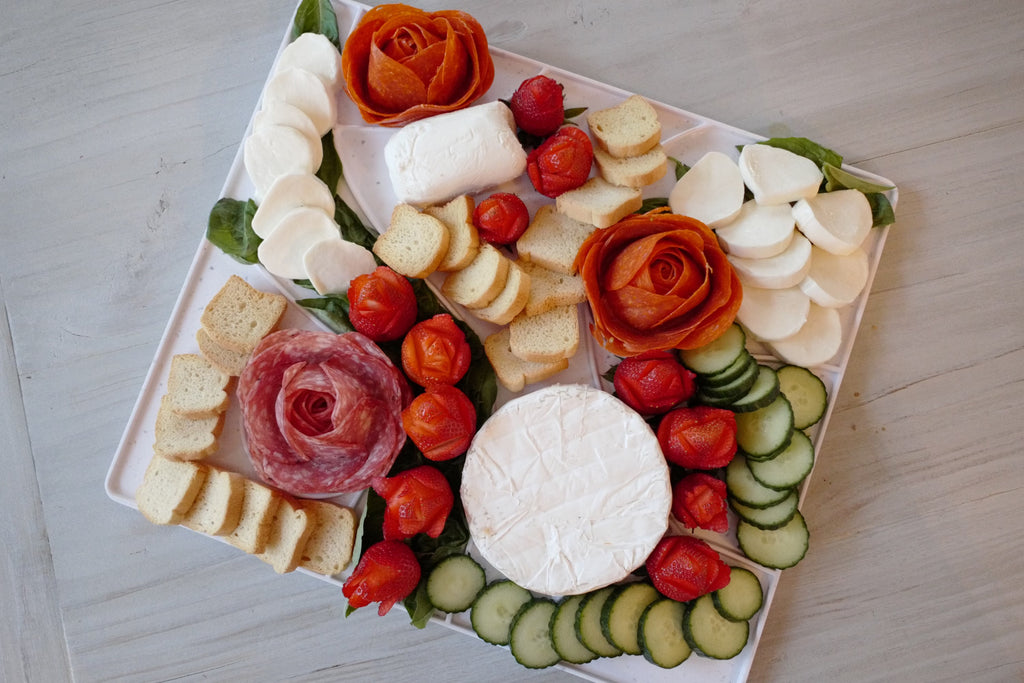 Rosé and Roses Charcuterie Board
Choose creamy, fresh, soft, young-un-aged cheeses: chèvre, fresh mozzarella, triple-creme brie.
You also need: Sliced cucumbers and melba toasts. Make salami rosettes and strawberry roses. Fresh basil leaves to garnish the plate. 
How to make salami rosettes: You'll need 1-2 lbs of hard salami to make 4 roses per lb. Wine glass. Fold the salami over the entire rim of the glass, overlapping as you go. Add as many pieces as you like or as will fit - the more salami, the fuller the rose. Hold the rose in place and turn the glass upside down onto the board in the position you want the rose to sit. Carefully lift the glass off the salami. Your beautiful rose is complete. 
How to make strawberry roses: Gather 8 strawberries and pairing knife. Wash strawberries and pat strawberries dry. Hold the strawberry from the stem, so that the strawberry is facing upwards. Starting halfway down the strawberry, slice about ¾ inch down (length will vary depending on size of strawberry) on the side of the strawberry to create a "petal." Before removing the knife, use it to gently curl the "petal" outwards by pressing it back. Repeat on the other three sides of the strawberry to create four base "petals." Repeat this process for the row above the base, cutting between the existing "petals" so that they are staggered. Curl each petal back with the knife. Continue to create staggered "petals" until you reach the top of the strawberry. Slit the top of the strawberry to create a rose "bud." Gently push back each of the "petals" to create your desired rose shape. Adjust petals as needed. Repeat this process with as many strawberries as you would like.
I've assembled my rosé and roses charcuterie on the Charcuterie-Made Easy board by GOVERRE. It'a a portable charcuterie plate designed for outdoor entertaining. A dishwasher-safe board, complete with easy-to-fill sections that act as guides. I just fill the sections with cheeses, salami rosettes, strawberry roses, cucumber and melba toasts, and voilà!
Watch co-founder, Michelle, assemble it here