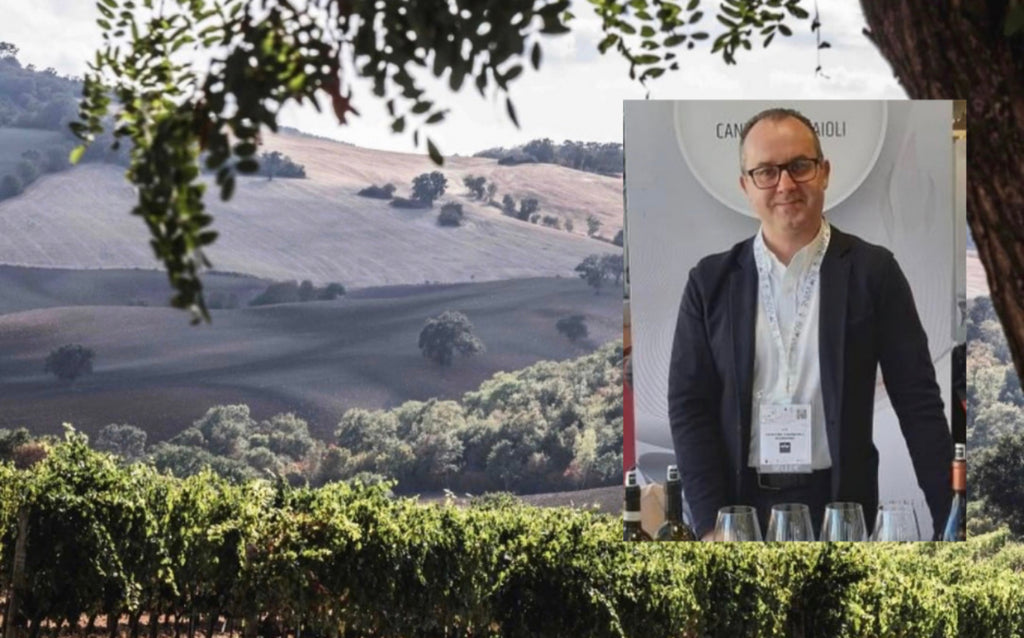 "i have always lived between vines and wine." – sergio, good clean winemaker
we first met our wine negotiant nicola and our good clean winemaker, sergio in tuscany during harvest in 2019. we visited vineyards spread over 700 hectares between rivers – ombrone and albegna and to the highest peak in tuscany, monte amiata. we fell deeply in love with this land full of well-kept secrets, gentle rolling hills, defined by plots of wheat, scattered with vineyards and olive orchards dotted with sheep. here and there a farm appears on a hilltop with a view that stretches from scansano to the tyrrhenian sea.
on a hilltop farm near the ancient village of pitigliano close to the sea, in the untouched countryside in the province of grosseto, nicola told us about how good clean wine producers focus on quality when tending the vineyard every day. this is when our winemaker sergio, pointed to and described how good clean wine grapes are grown in a variety of soils and microclimates. it was the perfect spot to see all the vineyards spanning from 150 to 300 metres above the sea level. sergio said, "the composition of the soil here varies even within the same plot of land and are composed of sand rich in minerals, silt, clay and tuffaceous stone." which is why our wines are so clean and delicious.
our winemaker, sergio, told us he has, "always lived between vines and wine." he was born and raised on a farm in the scansano village in maremma toscana. his father was a winegrower who produced and sold wine directly from their farm. sergio studied viticulture and oenology at the university of pisa and graduated as a chemist. his first job was in a laboratory doing wine analysis. next, he gained extensive experience in the production and export departments of a renowned local winery. he became the general manager of the winery in 2010 and his goal for the past decade has been to implement a strategy that strengthens the winery's position and fosters its growth in the domestic market and abroad. he says his focus is always on, "social responsibility and sustainability to reduce the carbon footprint of our wines, and in general their impact on the environment."
he oversees a large group of 160 small family grape growers and farmers who follow strict organic, biodynamic farming rules throughout the year to grow and harvest the highest quality and most healthy grapes to bring to the winery. he works with them to implement a combination of organic, biodynamic and biodiverse farming and winemaking processes and minimal intervention technology to grow healthy grapes in the vineyard. he says on average, "each good clean grape grower farms around 3 hectares and having small plots allows our farmers to take care of their vineyards with the attentive care one would dedicate to a rose grove." he described how the grapes gathered from these small plots are vinified separately and estate bottled.
as we toured the winery, sergio talked about all the extra care they take in the winery to ensure the characters of the grapes shine through when you taste the wine. he described to us how each grape variety is hand picked following the directions of the agronomist who advises grape growers the best time when to pick the fruits. he said, "this varies regarding the single grape variety, the position of each vineyard and on the climate of the specific vintage."
sergio and nicola told us many stories of how the grape growers spend a lot of time in the vineyard nurturing the vines, to grow the best quality grapes. we learned all about how they listen to nature and react accordingly to the vineyard and grapes day by day, month by month and year by year to do what is best for the vineyard in any given situation. he says his,"ultimate goal is to bring healthy grapes to the winery to make good clean wines."