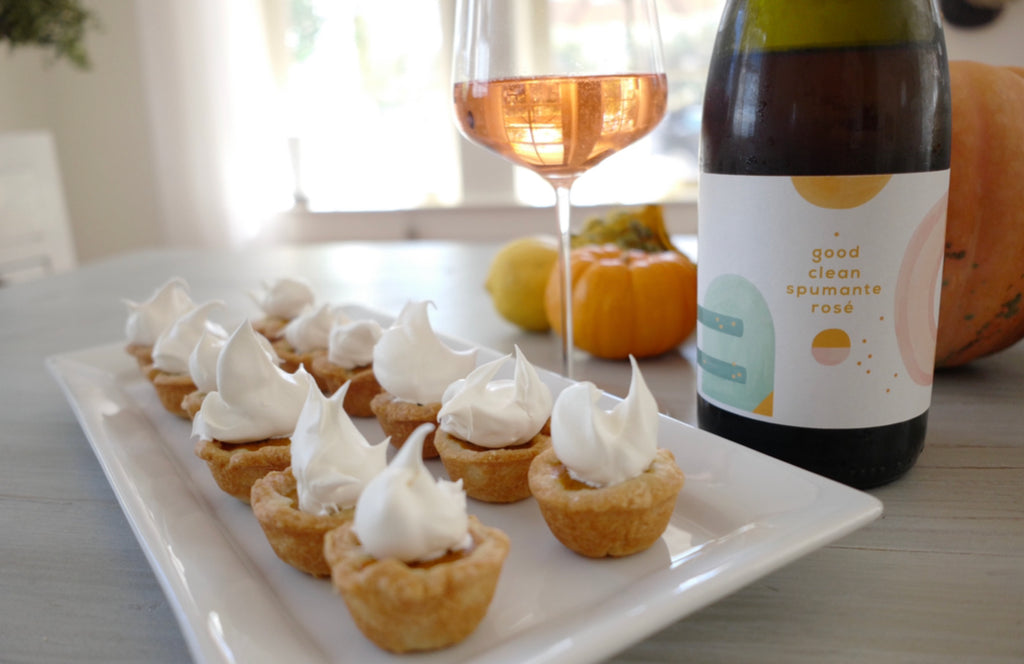 For us, wine is the main event at Thanksgiving, but we can't wait to eat all. The. Food. Stretchy pants, on!
Celebrate making it through this intense year by popping open our bubbly Good Clean Spumante. It pairs perfectly with:
Caramel Apple Baked Brie Appetizer
Ingredients: 4-6 ounces brie cheese with rind cut off
10 ounces 1/2 a can apple pie filling
1/4 cup chopped pecans
2 tablespoons caramel
1 can of crescent roll dough, rolled out into one sheet
1 tablespoon butter melted, pinch of cinnamon for garnish
Instructions: Preheat oven to 350F. Place crescent roll dough on a cookie sheet sprayed with nonstick spray. Place brie in the middle of the dough. Top brie with apple pie filling, pecans, and caramel. Take ends of dough fold to cover the brie. Pinch the dough together to seal; don't worry if it's not perfect. Brush top of dough with melted butter and sprinkle with cinnamon. Bake for 20 minutes or until the dough has browned and is cooked through. Remove and serve with apples, crackers, graham crackers, or toasted bread.
Good Clean Rose will pair with everything you serve, including turkey, stuffing, green beans, cranberry sauce, sweet potato casserole (the kind topped with marshmallows). It also goes great with pizza, if Thanksgiving food just isn't your thing.
Dry and versatile, Good Clean White is a perfect balance of fresh floral aromas and citrus flavors. It's a memorable party guest because it's easy drinking, interesting, high quality wine that pairs perfectly with turkey and sweet potatoes. 
Crowd-pleasing, versatile Good Clean Red pairs well with turkey, gravy, sauces, and roasted vegetables. We are going to pair it with:
Crockpot Turkey Meatballs in Cranberry Sauce
Ingredients: 2 lb bag frozen, pre-cooked turkey meatballs
12 ounce bottle chili sauce
14 ounce can jellied cranberry sauce
2 tablespoons orange juice
1 tablespoon brown sugar
1 tablespoon chopped parsley
Instructions: Place cranberry sauce in a bowl and microwave at 45 second intervals until just melted. Whisk in chili sauce, orange juice, and brown sugar, then stir until mostly smooth. Place meatballs in a slow cooker and pour sauce over them. Cook for 4 hours on low then serve, topped with parsley if desired.
Toasting to friends, family, and health is more important than ever this year and we are going to finish this with sparkling rosé and dessert. Wine is a memorable and refreshing complement to pumpkin pie. Light and juicy Good Clean Spumante Rosé balances the sweet and spice.
Pumpkin Pie Bites

ingredients: 1 pkg (14 oz) refrigerated pie crusts (2 crusts)
1 cup solid pack pumpkin (not pie filling)
1/3 cup evaporated milk
1/4 cup sugar
2 eggs
1 tsp ground cinnamon
1 tsp pumpkin pie seasoning
whipped topping
2 1/2 inch round cookie cutter
mini muffin pan
Directions: Preheat the oven to 375F. Unroll pie crusts and cut out 24 small rounds with a 2.5-inch round cookie cutter. Spray mini muffin pan with nonstick cooking spray and gently press the rounds into the wells of the pan. In a medium mixing bowl, whisk together pumpkin, evaporated milk, sugar, eggs, and cinnamon. Evenly distribute the filling among the pie shells. Bake for 20–25 minutes, or until a toothpick inserted into the filling comes out clean and the crusts are golden brown. Carefully remove pies from pan and let cool. Top pies with whipped cream and serve.