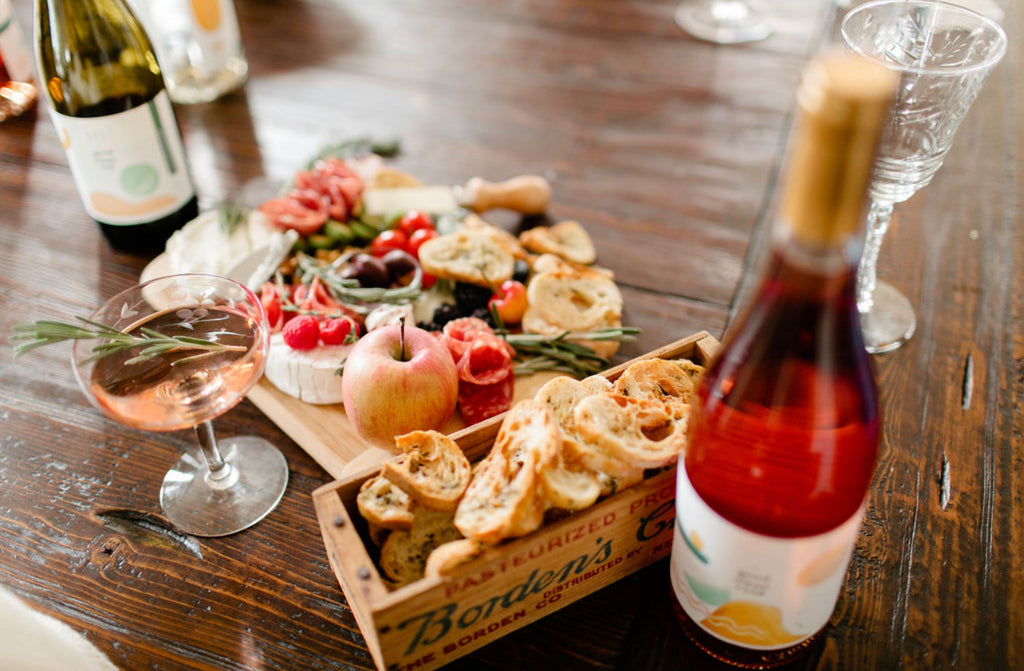 Grab a bottle or two (or five) of Good Clean Rosé and pair them with the following:
welcome aperitif: rosé martini, cilantro lime shrimp, salty salumi
cheese pairing: sweeter cheeses like any cheese with cranberries, and spicy cheeses with horseradish or bacon
vegetable pairing: vegetable burrito bowl, hearty legumes, roasted carrots, chickpea stew, lemon saffron risotto with fried zucchini blossoms, onion and pepper frittata, shaved cucumber ribbons tossed with feta and italian dressing
pasta pairing: takeout pizza, sweet corn pasta with ricotta
meat/fish pairing: herb chicken, roasted turkey, roasted trout with thyme and lemon, spicy tuna roll sushi
dessert: meringue with strawberries, strawberry shortcake, chocolate covered strawberries
here is our favorite recipe to pair with good clean rosé:
cilantro lime shrimp
* 1 lb ruby red wild caught gulf shrimp
* 1/4 cup cider vinegar
* pinch of salt
* small bunch of fresh cilantro
*juice of one lime
*1/4 teaspoon of pink himalayan sea salt
bring a large pot of water just to a boil.  add 1/4 cup cider vinegar & a pinch of salt & bring the water to a boil.
drop the fresh or frozen shrimp into the water. cook the shrimp with the heads and shells on.
boil the shrimp until a few start floating on top of the water.
drain the shrimp in a colander and shock immediately in an ice-bath by submerging the colander in the ice bath and then take out immediately. this will stop the shrimp from overcooking.
peel and devein the shrimp and rinse out under cold running water.
finely chop the fresh cilantro and squeeze the juice from lime. place the cooked, peeled, and devined shrimp in a lovely bowl, pour a few tablespoons of the lime juice into the bowl, sprinkle with pink himalayan sea salt and 1/4 cup chopped cilantro. toss. serve with good clean rosé and enjoy